Alan Rickman 1946 – 2016 – Always | A farewell to Alan Rickman
_a personal farewell from Jana van Diepenbrock
On Thursday  14 January  Alan Rickman  passed away,  surrounded by his family and  friends after a short illness struggling with Cancer. Amongst his many roles he played  Hans Gruber in 'Die Hard'  Col. Brandon in 'Sense and Sensibility' and  'Professor Severus Snape' in the 'Harry Potter Sagas'
For me, Alan Rickman was the best character actor at all. He was an artist not only as an actor with his mimics, gestures, but with his way of speaking, due to his distinctive voice,€" was like none other.
The Voice
Alan Rickman'€™s voice was classified as perfect,  along side Jeremy Irons and Judi Dench, British scientists developed a mathematical formula for the calculation of the perfect voice. The Calculation takes into account the intonation, the elocution and the speed of speaking. But not only the scientists proved this, his voice has been praised over and over again by numerous fans , €" and whoever doesn'€™t believe them, is clearly suffering from a hearing disorder. Furthermore, his fans were complaining, that he did not make enough appearances in the Harry Potter films.  Fellow actor Daniel Radcliffe, and director David Yates, both engaged in the Harry Potter films, assured everybody in an interview, how perfectly Alan Rickman could speak . He himself always denied this fact  protesting that his voice actually was a problem, as he sounded as though he was pushing his words out between his teeth, in order to overcome a speech impediment caused by the inability to open his jaw properly. He was hard to hear on the stage, therefore  was much better acting in films, although the Theatre was his first love.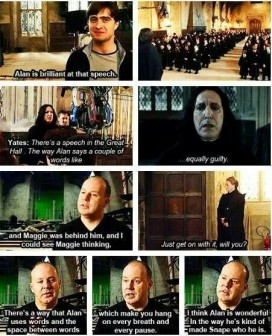 The Character Actor
However, it was the stage which made Alan Rickman  such an outstanding character actor. It was due to the excellent training at  RADA, one of the well-respected acting schools in the United Kingdom, that he learned how to move, speak, and gesture.  This goes to the very root of his roles as an actor, which picks him out as rather special  from the mass of other actors.
Along with his famous  roles in the Harry Potter films, Die Hard, Robin Hood, Prince of Thieves, The Perfume, Sense and Sensibility and Love Actually, Alan Rickman played in other numerous and not so well known €"but no lesser films. He played in two music videos from the band Texas ("In Demand" – incl. A little Tango – and "Start a Family"), Epic Teatime with Alan Rickman – in slow motion –, the voice in Mike Oldfield's "Tubular Bells 2" and the short films "Dust" and "The Boy in the Bubble". If there was one of Alan Rickman's films that really touched me, it was 'Snow Cake' (2006) also not so well known, however, everyone talked about it. After Alan Rickman read the script, he desperately wanted the part of the male actor 'Alex Hughes' and asked Sigourney Weaver who played along side with him in Galaxy Quest in 1999  to play the part of the leading female role 'Linda Freeman'. This wonderful and beautiful film is about transience and death; how different people deal with the event of losing someone suddenly they briefly knew or even loved. Despite this very sad day, we can look forward to a promising political war film 'Eye in the Sky' starring Alan Rickman in spring 2016.
Transience
RADA,  one of the best acting schools in London, gave me the incentive, in November 2009,  to fly early one morning from Hamburg to London in order to attended  a RADA fundraising gala dinner, which took place in the Dorchester Hotel. Apart from Alan Rickman, also present among othes were other RADA actors,Timothy Dalton, Richard Attenborough and Anthony Hopkins. Until Alan Rickman'€™s death, he had been a patron at RADA and supported new young talented actors.  Among other things, donated to the auction were art and tickets for premiers, such as for Harry Potter and the Deathly Hallows (Part 1) in London.
Since Alan Rickman also wanted to attend thisg event, one could assume that he had donated the premier tickets. I was very warmly welcomed by the RADA team, who kindly invited me to their table and involved me with their conversations. Over six years ago, I should have met Alan Rickman, when  a RADA-member tried to arrange a meeting  with him, however he was tied up with the filming of the last Harry Potter film, so unfortunately it could never be fitted in. Time flies, one is more and more engaged with work.
And on days like this you remember how transient time and life is. What is and was really important to oneself.
You should stop postponing the personal really important things, for the apparently important things which never seem to wait. As the saying goes: Postponed is not abandoned. But at one point it is too late for the really important things the ones which touch your heart and fill you with life and passion. And when it is too late, those things can never be abandoned, asking yourself why you never took the time back then, when it has not been too late and you would not need to regret. It will always be a burden to your heart and soul.
Condolence
Alan Rickman has been in a long relationship with  professor Rima Horton, also a politition, and married her  recently in 2012. The World has lost a distinctive actor. The family has lost a beloved man. I offer my condolences to Rima Horton and Alan Rickman's family. The world, and especially I, are grieving for Alan Rickman.
Donation for a good cause
In memory and honour of Alan Rickman I am collecting donations to financially support a student at RADA. The fees at RADA amounts at least 9000 Pounds per year. You can donate here.
https://freiweh.de/wp-content/uploads/2016/01/alan_rickman.jpg
600
1200
Arne Fischer
http://freiweh.de/wp-content/uploads/2015/11/logo-300x113.png
Arne Fischer
2016-01-14 21:18:16
2016-01-24 17:31:41
Alan Rickman 1946 – 2016 – Always | A farewell to Alan Rickman